Beyond Teaching: 8 Things Educators Can Do To Be Effective in Classrooms
As they say, a book, a pen and a teacher can change the world. So this is pretty much obvious that our expectations from teachers are really great in order to bring a change in the system as well as in the world that does liberate the concept of teaching-learning and the role of an ideal teacher from the peripheries drawn within a classroom.

We all remember at least one teacher of ours who made us learn how to think and what to think, beyond textbooks we all had one teacher who taught us ways of the world and shown the way life rules and became an inspiration to us for which we ourselves wanted to be one like him or her.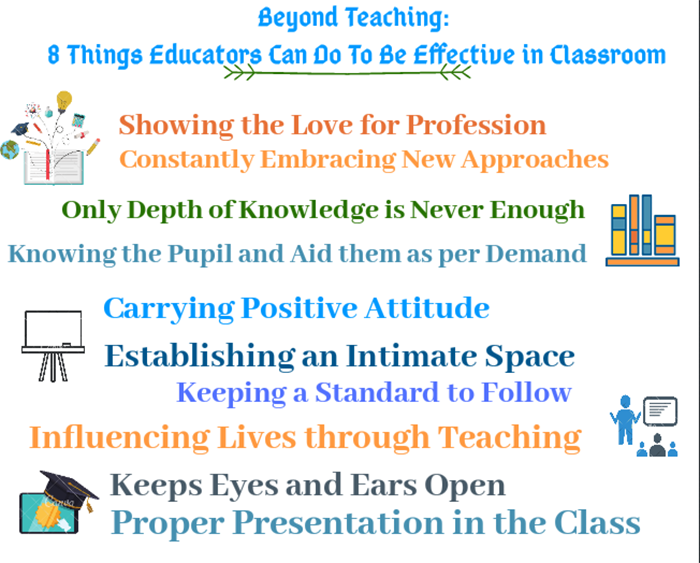 So, if you're here to get the secret alleys through which one can prove himself or herself to be one of the greatest teachers, read on!
Showing Love for the Profession:
Your genuine passion for teaching always reflects in the classroom. When you love your profession you already prepare yourself halfway for giving your 100% efforts for bringing the best result. So, an educator should always lobe his job of educating pupil to be effective in the classroom.
Constantly Embracing New Approaches:
In order to get the best outcome, an educator must look beyond textbook teaching. Even, though the textbook has always been considered as one of the greatest teaching-tool, now with the introduction of learner-centric approach educator should focus on making the learning process more fun and exciting.
The newly released approach of edutainment i.e. education with entertainment must be applied as well as other learner-centric approaches are also a must-know for every educator.
Only Depth of Knowledge is never enough
As being an educator follows the criteria of good academic achievements, proper knowledge and training of being a teacher, and undoubtedly the depth of knowledge so that learning things become much easier and interesting.
The ideal teacher or educator should never stagnate own self with the absorbed knowledge so far and always concentrate on growing for better and thus providing the students a clear concept and a brilliant presentation.
Knowing the Pupil and Aid Them as per Demand:
Knowing each pupil by name and nature is a must for becoming an effective educator as it does not only encourage the pupil's interest in the classroom.
It also helps the educator to figure out the strong and weak points of students so that he or she can guide the students to become a better person.
Probing into the individual characteristics of each helps the educator to become more effective in the classroom.
Carrying a Positive Attitude:
Becoming close to a pupil would surely bring their attention in the classroom but if the teacher does not show a positive attitude towards a pupil's achievement (even if slow progress), he or she may get de-motivated to study any further.
At the same time, the educator should always keep in mind that the learner too, is a miniature adult and hence he or she too, may go through a lot outside the classroom. In that case, only proper treatment and support from the teacher makes the pupil's learning process efficient.
Establishing an Intimate Space:
Being hard-core professional as an educator may bring you your supplement charges at the end of the month but it would never make you an effective educator beyond the classroom.
Talking to the pupils about their lives and as well as sharing facts with them would create a good teacher-student relationship which is essential for them to understand life better instead of cramming the textual facts and data. But excess of this intimacy may lead to disrespect of the teacher and that is why an educator ought to know the balance.
Keeping a Standard to Follow:
As the saying goes, "practice what you preach", a good educator should always show the pupil a standard of putting the effort in teaching when he or she expects them to put the effort in learning.
One should make sure that the students learn what is acceptable and what is not and at the same time makes the pupil think and analyse what they see in everyday life. Keeping a good teacher-colleague and teacher-parent relationship is also crucial.
Influencing Lives through Teaching:
As an educator, one's duty is not just to make pupil rote information and store data in the brain but to influence lives and make the students motivated to do better things for society.
"With great power comes great responsibility" and hence, a good educator must look to the facts that his or her words and actions are influencing the pupil.
A good educator should bring a good change in the pupil's behaviour, thinking about the process and elevate the quality of life.
Keeps Eyes and Ears Open:
A good educator is supposed to know the current affairs of local, state, national and international level so that he or she may inform the students of the contemporary age and relevant information about the world we live in.
In order to become one has to become creative as well as he or she must keep eyes and ears open for new updates, brilliant inspirational things in media and relate them to students while teaching.
Proper Presentation in the Class:
To become a successful educator one must make oneself well prepared before every presentation in the classroom.
This does not only ends with delivering the best of information but in a simple manner so that they can relate to it and learn from it. Managing classroom behaviour also comes under the proper presentation of a good teacher.
Every child is unique with individual traits and so are their educators. The points mentioned above are some of the generalized facts but in order to make one, a great educator one has to work on his own skills and find and mend the weak parts.
So, trust your vibes and make the world a better place.