Our Journey with Technology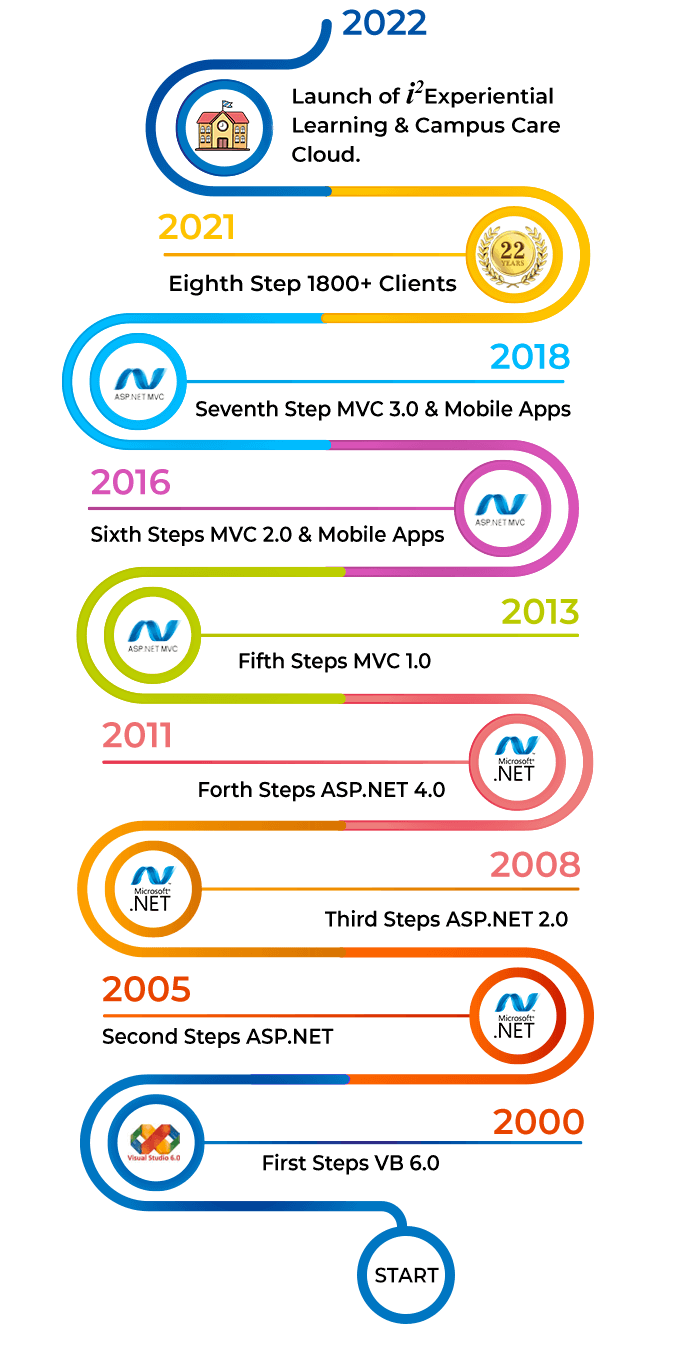 In 2000, when the concept of school ERP software was obscure, school administrations had been mostly following the manual way of working. Many schools faced problems such as the digitalisation of data, tedious and repetitive calculations for an error-free progress report card, preparation of summary sheets and promotion lists, non-realisation of fees, and leakages in fee collection. Other tough tasks like the maintenance of the caution deposit register, errors in salary/PF calculations, EPF submissions, registrations for admissions, and form distribution had been challenging. Difficulties in library management were centred on issuing and return of books, loss and damage of books, and timely return of books. Seamless communication like circulars and newsletters, its printing and circulation had been tedious too.
With a deep understanding of these problems that worried and occupied the time of school management over the years, the start-up promotors at Entab took on a new mission of providing new-age 360-degree solutions using a single platform to automate and transform school management while also attending to seamless communication with all stakeholders of a school - students, parents, teachers, principals, and school management.
With insights on managing resources involving man, money, material /machines, and minutes (time), and know-how on using technology for resource management and communications as early as 2000, Entab became a pioneer in the domain of School ERP solutions in India ensuring streamlined work-flow as well as revolutionise the education sector with digital innovations. The journey continues with its innovative concepts and new-age features from on-premises software to online software, which allows a comfortable environment bringing everyone to the same page, and helps to communicate easily whereby the life of the parents, teachers, and management becomes easy and fast-moving in the truest sense!
The microchip that started its production in 1965 had just a few hundred Megahertz. The speed keeps on increasing and today it is doubling in 18 months. When Entab was established, the speed of a computer was just 700 MHz and today it runs into many GHz; the hard disk size was 20 GB, weighing a Kg, but today 1 TB (more than 50 times of 20 GB) weighs about 200 Grams only. This indicates that the two factors that play a big role in our life are 'Innovation' and 'Speed'. These two factors harbour a jackpot of different functionalities and will definitely take us to great heights!
Today's problems are not centred on managing the operational activities of a school, but rather on safer systems, secure solutions, and various analytics that can help the organisation to build and grow with the right decisions, based on new knowledge derived from the data analysis. ERP stands for Enterprise Resource Planning, but today it is a tool to BUILD and GROW your organisation pivotal to creating a safe and secure management system to protect the data related to the school by allowing access to only authorised personnel.
There is a wider acceptance of technology today. The need to survive moves at a very high speed. Humans get restricted in their speed and are likely to be fallible, but machines do not. Machines are free from human errors and procrastination.
Today it gives immense pleasure and joy on having our own innovation centre, headquartered in New Delhi with 32 regional centres across India and serving a robust clientele of over hundreds of good schools who aspire to be the best. Entab has been in the domain by the name of CampusCare®, a proven and trusted ERP software, that evolved over 22 years. It is a one-stop ERP solution providing a smart, straightforward, and innovative school management system.
Ever since the draft of NEP 2020 (National Education Policy 2020) was published in 2020, a devoted and dynamic team of teachers at Entab has been researching and exploring revolutionary and transformational reforms related to the recommended instructional pedagogy and competency-based assessments in order to provide high-end educational experiences for learners. Our research findings endorsed the need for empowering teachers with a new technology-based teaching-learning process that fosters a deeper understanding of concepts, and the development of 21st-century skills that help develop employable talents and entrepreneurial skills. Continuing our innate drive of being a front runner, Entab after the launch of NEP 2020, expanded its footprints into the development of Experiential Learning Solutions ensuring its emergence as the go-to solution for an effective teaching-learning process and lending a helping hand in enabling the learners' betterment.
Our new vertical Experiential Learning was finally launched by Fr. J A Carvalho – Director -Fr. Agnel Group of Schools, Delhi -NCR, on September 24, 2022, at 'All India Experiential Learning Summit' held at Le Meridien, Connaught Place, New Delhi witnessing the presence of various renowned professionals and experts from the field of education including 600+ School Principals, Government dignitaries, and educationists that include CBSE Academic Director, Prominent Author/Motivational Speaker - Mr. Shiv Khera, Spiritual Leader HE Amog - Lila Prabhu, Entrepreneur Trainer - Dr. Himesh Madan, Child Psychologist cum Founder of Live life Foundation-Dr. Kannan Gireesh.
The summit concluded with a firm conviction that Entab is advancing ahead as a new-generation Learning Management Solutions built to work while embracing the newer associated trends in all probability in the near future.

Our Vision
Become a game changer in the ed-tech world with revolutionary K-12 educational and ERP solutions that transform schools from 'good' to 'best; That transform learners into great champions in life, and add true value to students, teachers, schools and parents.
Our Mission
Empower schools with revolutionary online school ERP software and help delegate operational tasks to machine so that school managements focus on futuristic growth; Automate communication tools that enable seamless communication between all the stakeholders - students, parents, teachers, principals, and school management.
Empower the teacher community with a new teaching-learning process, HD resources/assets and insightful mentoring tools that build champions for life and admirable alumni for the school.
Power students with 'Extended Learning After-school' to help deeper understanding of concepts while building competencies, employable talent and entrepreneurial skills that transform them into great champions in life; Save time, resources and efforts!
Our Core Values
'Sustainable development and well-being of all'